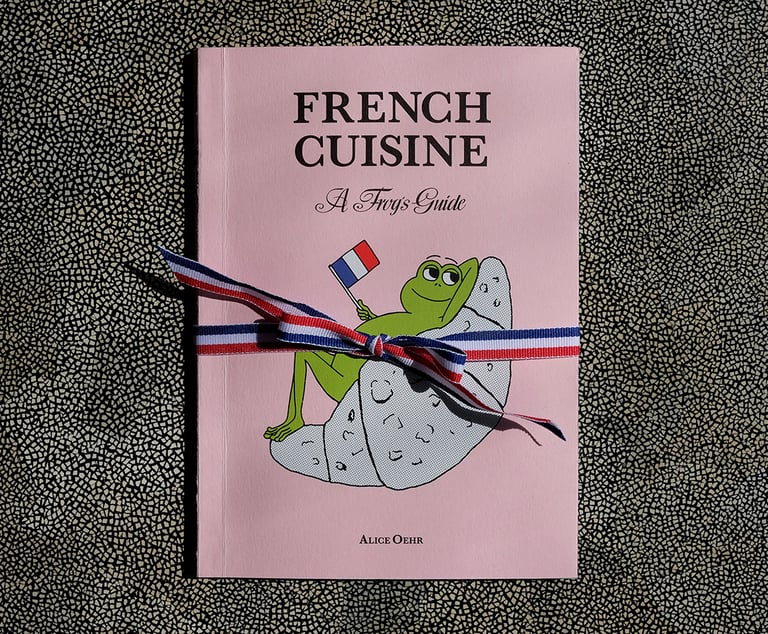 French Cuisine – A Frog's Guide
An illustrated entrée into the world of French food, guided by some frogs.
"Welcome to France. A country of fabulous art, beautiful women, timeless architecture and sexy accents. Visitors come for the Eiffel Tower, the Notre-Dame, the Monalisa ... then they embark on the real pleasures of France – at the table. Join us as we discover more than 50 classic French dishes with the help of a few frogs. "
72 pages, bound, soft cover. 
Written and illustrated by Alice Oehr. Published in an edition of 400 in 2022. 
All orders receive a free A5 Riso print.
Use code COLLINGWOOD at checkout for pick-up & free shipping.
–
Select from the menu to add an A2 "Frog's Guide to Patisserie" print, RRP $150.
An ode to French pastry featuring the Croissant, Pain au Chocolat, Escargot and Brioche with four frogs from the book.
Two colour Risograph print. Edition of 50.
Heavyweight, recycled off-white paper.
Print measures 420 x 594mm (standard A2 size)